Regional Farm Fresh Meat
We are neighbours to many local producers of Regional Farm Fresh ingredients.

Fresh Deboned Fraser valley Chicken

Fresh Deboned Fraser valley Turkey

Fresh Deboned Pacific Ocean Salmon / Herring / Trout / Cod & Halibut

Fresh Deboned Alberta Beef & pork

Fresh Deboned New Zealand Lamb

Fresh Fraser valley & Okanagan Fruits & Vegetables

Fresh Saskatchewan Peas & lentils
SAFETY FIRST
Committed to producing safest product via our SAFE QUALITY FOOD program.
BEST IN PRICE
Canadian Naturals is committed to producing the highest quality product at the best price value.
CANADIAN
Located in the heart of the Fraser valley in beautiful Abbotsford B.C.
QUALITY ASSURANCE
We abide by the most stringent certification in the pet food industry by cooking our products in our SQF3 & HACCP certified West Coast Kitchen.
Fresh Fruits & Vegetables
for Optimum Health
The formula also contains a wide variety of fruits and vegetables including apples, blueberries, pears, bananas, sweet potatoes, broccoli and spinach. These fruits and vegetables offer tremendous health benefits.
Apples and pears are high in vitamins and minerals. They help fight cancer, promote healthy weight loss and protect dogs from heart disease. Most notably, apples contain a high level of soluble fiber, which reduces cholesterol.
Blueberries are rich in disease-fighting antioxidants. They help reduce the detrimental affects of free radicals. Free radicals are highly reactive oxygen molecules that attack the body, causing oxidative damage. They pose a sizeable threat to good health. Antioxidants help protect the body by neutralizing free radicals before they cause any harm. Blueberries also improve eyesight, help build strong blood vessels and reduce the risk of urinary tract infections.
Bananas are rich in potassium, which helps control blood pressure and keeps the body's muscles functioning properly. Bananas are also high in Vitamin B6. This vitamin aids in protein metabolization, assists in the production of red blood cells and enhances the immune system.
Sweet potatoes are loaded with an extremely important nutrient—Vitamin A. Vitamin A is crucial for good vision. Deficiency in Vitamin A can result in night blindness. This condition causes difficulty in adjusting from dim to bright light. Vitamin A also plays a major role in the growth and regulation of cells. It enables cells to differentiate normally, which is vital for growth, development and reproduction.
Broccoli is rich in carotene. Carotene helps protect the body from free radicals and is known to prevent cancer.
Spinach is an excellent source of calcium and iron. Calcium is essential for building and maintaining a strong skeleton system. Dog's need more calcium than any other mineral. Iron helps deliver oxygen to the body's cells. It carries away carbon dioxide and stores oxygen in the tissues, where it is used during muscle contraction.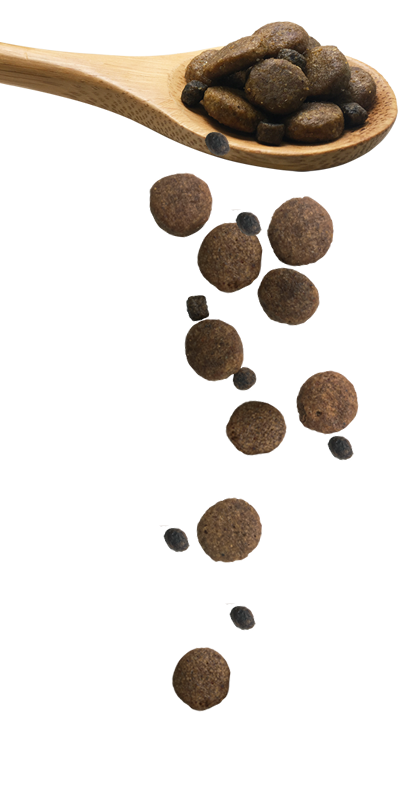 Herbs & Supplements
Provide Additional Benefits and Great Flavour
Canadian Naturals is seasoned with a host of herbs and supplements.
Flaxseed contains high levels of linoleic and alpha linolenic acid. Both of these substances are considered essential fatty acids. They help regulate nearly every bodily function. They stabilize and strengthen cell membranes and keep cells fluid and flexible. Because a dog's body cannot produce these substances on its own they must be added to the diet. Flaxseed is also beneficial to the skin and coat.

Garlic. Garlic enhances the immune system gets rid of worms destroys harmful yeasts and bacteria and repels fleas.

Probiotics. Probiotics are friendly bacteria that aid in overall health and digestion. They break down food particles so they can be readily absorbed into the bloodstream.

Glucosamine. This supplement helps alleviate stiffness and joint pain. It can work wonders for dogs who suffer from arthritis or hip dysplasia.

Various herbs including: rosemary - cinnamon - paprika - capsicum - yucca shidigera extract - chamomile - turmeric and dandelion. These herbs provide a naturally delicious flavour. They are extremely soothing to the digestive tract and help combat bad breath.